How to Move Files Between Cloud Services?
Forward
In recent years, more and more users have used the cloud to store their data and files. However, it's very difficult to manage these cloud storage accounts without using proper tool s and having a good understanding of these tools. In order to inspire you, this article will explain to you how the cloud drive works and how to easily manage multiple cloud drives.
What's Cloud Drive?
Cloud Drive is an application under the cloud storage system. And cloud storage itself is an application developed from cloud computing technology. The core of cloud storage is the storage and management of data, which is equipped with massive storage space on the basis of the cloud computing system.
The existence of various application programming interfaces (APIs) in cloud storage systems enables developers to continuously expand the types of services that cloud storage systems can provide by developing different applications. At present, the main services provided by cloud storage systems include cloud, space leasing services, and remote backup and disaster recovery.
What Are the Features of Cloud Drive?
Large storage space. Compared with cloud drives, USB flash drives have fixed storage space.
Data such as videos and pictures can be shared through cloud drives. When users need to share documents, videos, etc. in their cloud drives with other users, they can share them only by extracting the code.
Compared with other physical disks, cloud drives are more convenient. The specific manifestation is that users do not need to carry important information, files and data they store with them all the time, but can store them directly through the Internet.
Cloud drive is a new and professional network storage tool. Provide on-demand storage services with better flexibility, effectively preventing cost out of control problems.
How to Manage Multiple Clouds?
With the rapid changes in society, more and more people pay attention to data security, so more and more people are accustomed to storing their data on cloud drives. However, one problem is that the free cloud storage space is not particularly large, so many people have to create multiple cloud accounts to store a variety of data. So there comes a question on how to manage these clouds easily? Luckily, in the following part, you will find a new way, MultCloud, to help manage your clouds in one place without efforts.
MultCloud, as a web-based cloud file transfer service, it can not only manage multiple cloud drive accounts in one console within one login only; but also can help transfer files between cloud storage services. As a web-based service, it does not have any client at present, so it will save you a lot of time to download and install before using the tool.
It currently supports 33 clouds, including MEGA, Flickr, Google Drive, Dropbox, Mediafire, Backblaze, Hubic, Google Photos, etc. In the following part, you will learn how to manage your clouds with MultCloud.
Step 1. You need to create one MultCloud and it's of free charge. If you do not want to create it, you can log to MultCloud directly with your Google or social media account and you will get one temp account.
Step 2. After logging in MultCloud, you need to add your clouds to MultCloud. Here take adding Google Drive and G Suite as an example. Click on the "Add Clouds" button, select Google Drive below to add, click on the "Next" button, and authorize MultCloud to access your Google Drive account. Follow the same way to add your G Suite to MultCloud.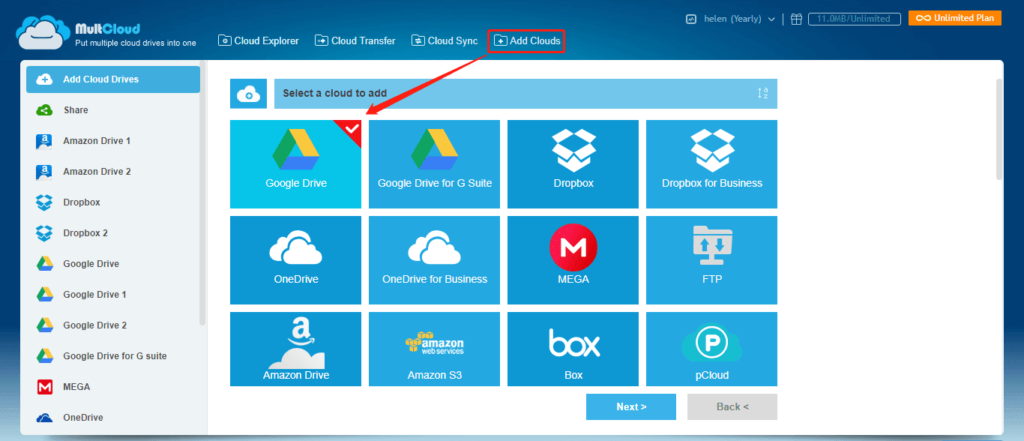 When adding G Suite to MultCloud, there's a little difference. Before adding it to MultCloud, you need to confirm if your G Suite account has full admin privileges. If not, then you need to ask your administrator to assign it to you.
Step 3. After adding G Suite to MultCloud, you will find both Google Drive and G Suite are added on the left side. As you can see, it's super easy to manage both accounts with MultCloud.
You no longer need to log in and log out or switch accounts to access files you need. With MultCloud, managing multiple clouds has become an easy work.
How to Move Files Between Cloud Services?
In addition to managing clouds, you may find MultCloud has other functions, such as "Cloud Transfer" and "Cloud Sync". As you have added Google Drive and G Suite to MultCloud, here will guide you on how to migrate Google Drive to G Suite.
Switch to "Cloud Transfer", select Google Drive as the source, select directory your G Suite as the destination, click on "Transfer Now" and the sync task will run immediately.
As MultCloud supports offline sync, you can close the page without waiting for the task to complete.
Summary
As you can see, MultCloud is really a good service to help manage clouds and move files across clouds. Using MultCloud, it will improve your work efficiency and save your management cost.
Facebook Comments